Read our in-depth review about the Mionix Castor Gaming Mouse
After the swedish gaming-company Mionix could surprise the gaming-scene with their ambidextrous "Avior 7000"-mouse, they listened to the fans and released their brand new ergonomic gaming-mouse "Castor", whose name is derived from greek mythology.

Mionix proved us with the Avior that they are a company that focuses on good build-quality and functioning, which is rather rare on today's market. Are they able to deliver a solid piece of hardware again? Let's take a look!
Technically, the Castor has the same specs as the Avior. Coming with a great implementation of the PMW3310 sensor aswell as a stable pollingrate, the Castor runs flawlessly without any bugs or interferences. No smoothing, no acceleration, no Angle snapping, no weird sensor issues. It's working as intended and creates the foundation for a consistent gaming experience.
Software
Mionix did their job fine again with a smooth running software that allows for high customization. The software hasn't changed much since the Avior, except that it doesn't need to be installed anymore. We found this feature very helpful for attending LANs or playing on other PC's.

.
Weight & Size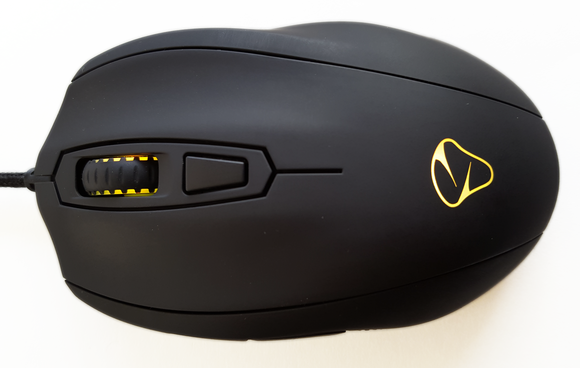 The weight of approximately 93g seems a little high for a mouse of this size but it feels much lighter than it actually is. You are able to lift this mouse around without experiencing any signs of inertia.
Unlike many gaming mice, which are too thin, the Castor comes with a nice width of 70mm, which allows for stable aim-control. Compared to the Avior, the Castor fills the palm better with an increased height of 40mm (Avior had 34mm).
Specs:
Grip & Surface
We genuinely think Mionix has created one of the best ergonomical shapes of all time with the Castor. It has been designed to function with all 3 gripstyles (Claw, Palm, Fingertip) and comes with a pinky rest on the right and a nice rubber grip on the left side. We found a Palm-Claw hybrid to be the most comfortable here, but most other grip-styles worked aswell without any issues. The Castor´also should fit most hand sizes. However there is an exception: Do you have large hands and fully palm your mouse? Then better avoid the Castor as the chance is high that it feels too small for you.

Buttons And Wheel
This is the part we found to dislike on the Castor. While the Avior had light but tactile clicks, the Castor-clicks feel a bit too light. People who prefer more crisp clicks like the Huano-switches on
Zowie-mice can get some issues with this super-light clicks. The clicks are still good but we expected the same quality as on the Avior, which is not the case here. The mousewheel also feels cheaper compared to the Avior and it produces some rattling sounds, which can get annoying for some people.
Final Thoughts
The Mionix Castor is a great allround-gaming mouse. Mionix live up to their new slogan "It's all about the craftmanship" and gave us a technically flawless gaming mouse once again, this time with a GREAT shape. However a few issues like the very light clicks can't be ignored and we hope Mionix will adress these for their next mice. Overall, the Castor could convince us and is an improvement over the Avior in terms of size, shape and weight but somehow we are missing this little extra magic that the Avior had, which makes you absolutely dominate your opponent.
08/10
>> Buy MIONIX CASTOR Optical Gaming Mouse